"A great read and believable story about motivating a whole community.
"An outspoken prairie town female welder mends the hearts, minds and the broken machinery of Shallow Rapids while welding out of this world art sculpture in her very down-to-earth shop.
The fusion of ideas and metal make the concept of fission power a reality in this book."
Doug Rault, B.Sc.
Welding Examiner, QA/QC Inspector
Changing People's Lives
Analiese Drucker is a creative problem solver. A thinking-ahead young woman. When the electrical grid collapses during a prairie winter, she finds an elderly friend shivering and alone in a snowbound home.
Determined to secure the energy future of her friends, family, and neighbours, she proposes an audacious community plan to make the town an independent, electricity producer using carbon-free nuclear power.
"You showed us we have something worth fighting for," the mayor tells Analiese.
A quick-witted strategist, Analiese deploys her scientific knowledge with quirky, humorous insights that challenge the traditional attitudes of the plan's opponents.
"The smart, wry humour made me laugh aloud.
"I love this book; it's highly original in content and style, cleverly amusing, and filled with lively, engaging characters.
The love story is beautifully handled with nuances, and the smart, wry humour made me laugh aloud."
Troon Harrison
Editor, and multi-award winning author
Our Infinite Possibilites
Everybody knows everybody's business in Shallow Rapids, Alberta.
On Sundays, Analiese Drucker, 20, can be counted on to lead youth class, play piano and sing soprano. On workdays, she's in coveralls repairing broken farm implements at Drucker Welding.
Along Railway Street, Analiese displays her steel Shapes: the wind-twisting sculptures that perplex the town elders.
Behind her welding visor, Analiese considers other possibilities for her life, but keeps those thoughts to herself—until she is backed into a corner by the town's traditionalists.
Her decision made, she loads her pick-up with welding tools and heads down Sinners' Highway.
I'd forgotten where I discovered stories as a boy. I suspect university and employment backfilled the leak in my brain where those improbabilities seeped out.
Two years ago, age 70, a new idea trickled into my thoughts and I began writing the Shallow Rapids series. That inspiration almost dried up in a hospital. It took another year for me to coax it back to life.
I slow-realized how change had quietly ambushed me when, without rregret, I boxed up thirty years of novels, biographies, profiles, magazine articles and news stories.
Shallow Rapids, a slowdown on a passthrough highway, is the now where I'm living and finishing the third book about the unexpected Analiese Drucker, Journeyman Welder.
In Shallow Rapids Analiese's acceptance of the universe's lovely randomness inspires changes in communities and in people's lives.
In writing about Shallow Rapids, I live my stories. There's no other place I want to be.
"I borrowed that idea from Quantum Mechanics," I tell her. "Think of your life as a wave of chance that contains all your possibilities. All the opportunities for things to happen to you, some probable, some improbable. It's up to you which ones you want to hold onto."
Analiese Drucker, Journeyman Welder and Wayward Thinker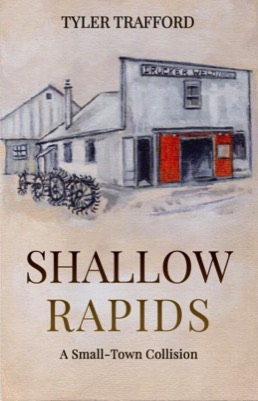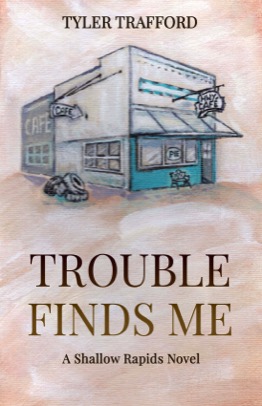 "Friends talk the same to you whether you're dying or living."
When a dying friend tells Analiese he wants his quantum particles to be dispersed from a SpaceX rocket, she says she'll make it happen … and more.
"We all hope to have an Analiese when our time comes."
Greville Carson, 73, has thirty days to live. His doctor is recommending a traditional program - bucket lists.
"Wrong," says Analiese, 24. "Bucket lists are for people who have been tourists all their lives. People like us thrive on the unexpected.
"I can give you an unscripted, 30-day drama where you traverse the Underworld with me, the Ferryman who doesn't really give a damn about your feelings. And I'll get your particles to the launch on time."
Later, Analiese questions Greville: "Do you want me to grieve for you? I will if you ask."
He doesn't hesitate: "No point in lamenting."
"That's a relief."
Well-wishers, the curious and old friends hold barbeques and dances in the towns as the small flotilla passes through, echoing the sentiments of Aunt Vera who tells her Shallow Rapids community:
TYLER TRAFFORD
Change Quietly Ambushed Me
Tyler Trafford's latest is a gem! REALLY enjoyed it. Congratulations!
Didn't know you were a closet 22 year old girl. But it works. Chris Patrick Literary Agent
How in the name of quantum mechanics did you come up with "Shallow Rapids"? I loved it. It's a terrific story with fresh, unique and very real characters. Could you please tell me how to be more like Analiese, and as smart as you!
Stephen Hoare, co-owner Owls Nest Books, Calgary
Love this recent novel by the incredible Tyler Trafford. Both funny and thought provoking while providing the reader with insight into life in rural Alberta. One of my favourite books this year. Mary MacLachlan, Musican (violinist)
The story reminds us to be non-judgmental and see equality. Carla Pole, Rancher and Mother
My overwhelming impression is of a work with great originality and intelligence. It percolates in my mind and warrants significant reflection, review, and discussion. Katharine Nash, Engineer
A witty read in which quantum physics, random opportunities and small-town relationships collide. By harnessing her community's strengths of resiliency and acceptance, Annaliese is able to accomplish impossible possibilities."
Amanda Elliott BSc, DVM and occassional book editor
FAVOURITE SHALLOW RAPIDS COMMENTS
From My Wayward Friends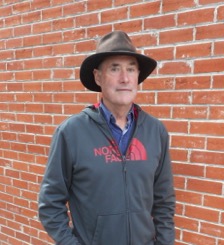 SHALLOW RAPIDS
A Series by Tyler Trafford